Class Breakdown by Projected Proficiency Report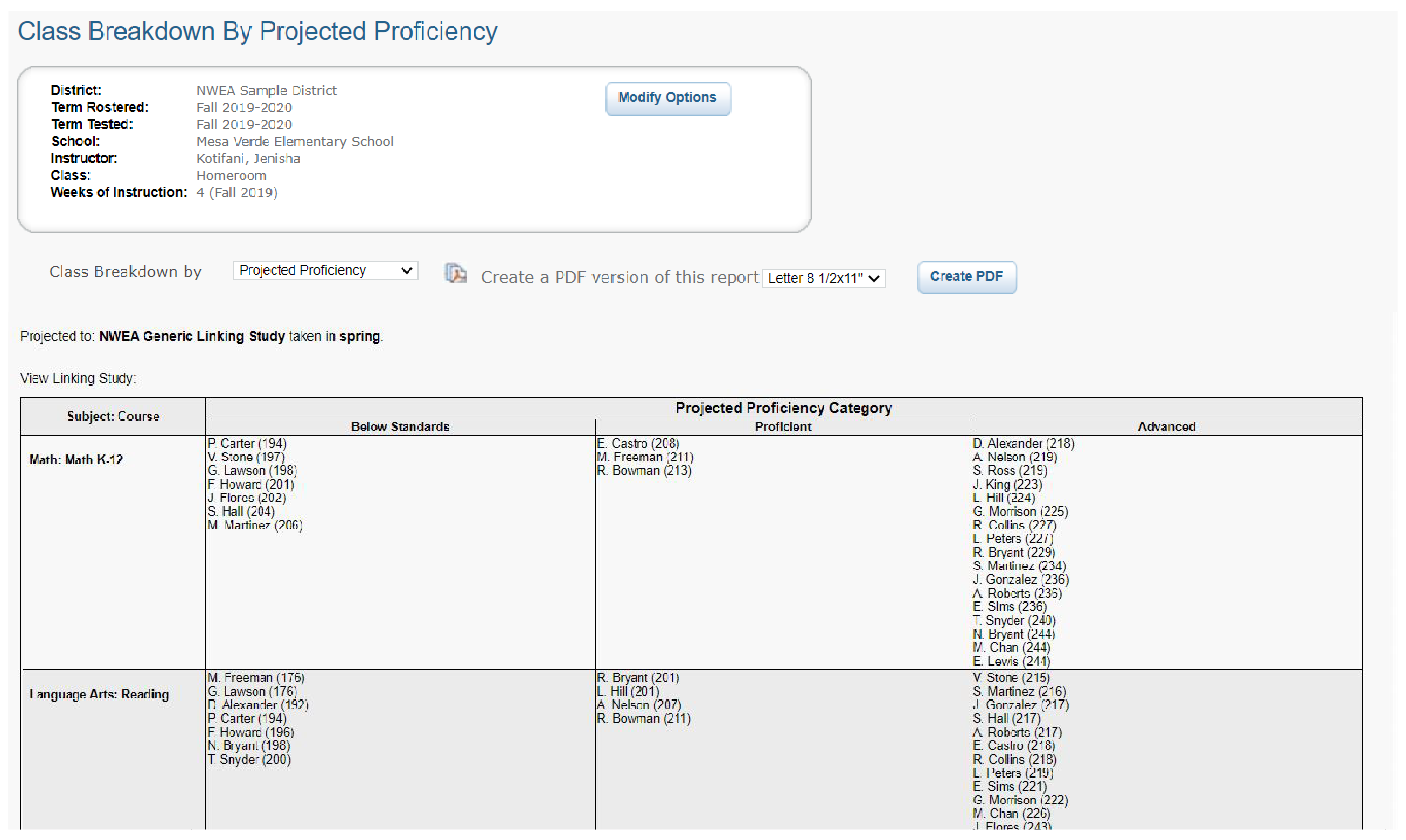 Description

Shows students' projected performance on state and college readiness assessments so you can adjust instruction for better student proficiency.

Results are limited to 250 students per class.

Applicable Tests
MAP Growth and MAP Growth K–2.
Audience

Instructional coach, teacher, counselor, principal

Required Roles

Instructor, Administrator, or Assessment Coordinator (School or District)

Date Limits

1 year prior, for tests completed within your test window range (set under Manage Terms)
About Proficiency Projections
There are no projections available from summer test results.
Which state and college projections appear depends on the state alignment that your district selected during MAP implementation.
If your state does not have a specific

NWEA

linking study, default projections developed by

NWEA

 appear on the report.
Depending on the state, projections may be limited to certain subjects (typically reading and math) and certain grades (typically 2 through 8).

College readiness projections are limited to grades 5 through 9.

ACT College Readiness—The "On Track 24" projection is the highest benchmark. It is based on a more stringent ACT cut score of 24, instead of 22. For details, open the linking study.
Note:
The Class Breakdown report includes a link to the
Learning Continuum
, which you can use to explore content on MAP Growth assessments.
Options for Generating a Class Report
Term Rostered: Term when students were enrolled ("rostered") into MAP. Typically, you can leave it set to the current term (choices are limited to the current and previous academic years).
Term Tested: Term with the test events you want to see. For example, in the fall you might want to see results from the previous spring. Choices are limited to terms that are concurrent with or that precede the Term Rostered.
School, Instructor, Class, and Subject: The choices you have depend on your MAP role. The Assessment Coordinator can choose from across the district-wide. Other roles are limited to assigned schools and classes.
back to top >>