Skills Locator Assignments
The Skill Locator identifies skill gaps that students might have. The following video explains how it works:
Preparation: Choose Students
To target the students who need attention on their skills, use results from the MAP Growth assessment. In particular, check these reports:
Class — Look at percentile rankings and detailed results for each instructional area (or "goal performance"). Areas of strength are in bold, and areas that need more focus are in italics.

Achievement Status and Growth — Useful when you are focusing on how well students have grown. Combine this information with insights from the other reports.

Student Profile — Shows specific instructional areas that could use your focus. In one click, you can then assign related Skills Locators.
Tip: Consider using the custom groups feature so you can easily work with a select group of students. See Custom Student Groups .
Skills Locator Assignment Options
After you choose students, assign a Skills Locator using any of these options:
Quick Assignments from Student Profile
Easily assign each student a Skills Locator from the Student Profile report. For example, Geometry is a Suggested Area of Focus for this student, so you can click the STRANDS TESTED link to see which strands apply to Geometry:

In this case, there are 3 strands available, so you could choose whichever best matches your current curriculum. (For details about each strand, see Which Strand Covers Which Concepts?.) You can then click ASSIGN LOCATOR, and the MAP Skills Assignment tab appears with all the applicable settings chosen automatically: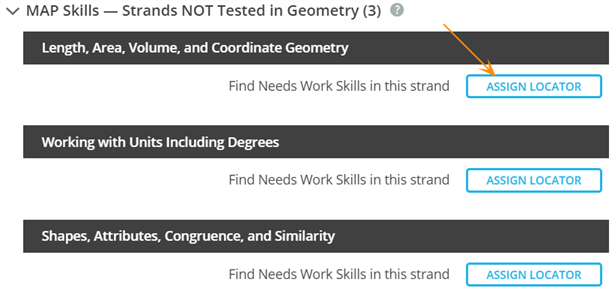 Recommended Batch Assignments
For a group of students, take advantage of the Ready for Skills Locator card, under the Assignments tab. It makes automatic recommendations to save you time. For example, under the subject of Mathematics, this class has numerous students who are ready for assignments:

Best Practices:
Keep the first option ("strands aligned to the Instructional Area"). It will suggest the most appropriate assignments for each student, based on the area where each student scored lowest on the MAP Growth test.
Choose the strand that best matches your current curriculum. (For details about each strand, see Which Strand Covers Which Concepts?.)
Check the assignment settings by clicking View (on the right). Alternatively, the orange Assign Locator button would assign everything possible, but the amount could overwhelm your students.

When the Skills Locator settings appear, make any adjustments, using the '?' icons for guidance. Also, scroll down to the list of students and remove any, as needed:
Free-form Assignments
The Assignments tab in MAP Skills provides full control for whatever assignments you want to make. Select the Subject, choose Create Assignments, and then open the Skills Locator tab:

Best Practices:
— As you complete the other information, click these help icons for tips.
Instructional Area — Use the area, or "goal performance," that you obtained in your MAP reports. You then see only related strands in the drop-down list.
Strand — Choose the strand that best matches your current curriculum. (For details about each strand, see Which Strand Covers Which Concepts?.)
Example Locator Walkthrough:
Common Questions for Skills Locators
How do reading Skills Locators work?
For reading, the Skills Locator determines which grade level is Instructional—the level where your student could use additional instruction. It is the first part in a two-part process. After finding the Instructional grade level, you would then probe specific skills using a Mastery Check.
At the start of the Locator, students receive 1 passage with up to 3 questions. If a student answers any of these questions incorrectly, the Locator moves down one grade level. If he or she answers all correctly, the Locator moves up to the next higher grade.
Testing stops when the student again answers all 3 correct for a grade-level passage. That grade level is considered Instructional.
Next Steps—After the Locator, you would next assign a Mastery Check for one of the suggested strands. See Mastery Check for Reading .
Why is the RIT score unavailable in assignment settings?
To use RIT Score as the Starting Point, these requirements must be met:
Student has all reporting attributes, such as Ethnicity

Student has recently completed MAP Growth testing

Screening tests do not apply because they only provide an overall subject score (MAP Skills will base assignments on the Instructional Area scores, or "goal areas")

The academic standard your district specified for MAP Skills must match the standard specified for MAP Growth
Next Steps:
Student Preparation and Passwords
back to top >>