MAP Growth Spanish Reading Results
When you test students with MAP Growth Spanish Reading, you can expect to find results similar to the English Reading tests, with a few exceptions. For example, you could use the Achievement Status and Growth Report to compare scores of a student who completed both Spanish and English Reading tests: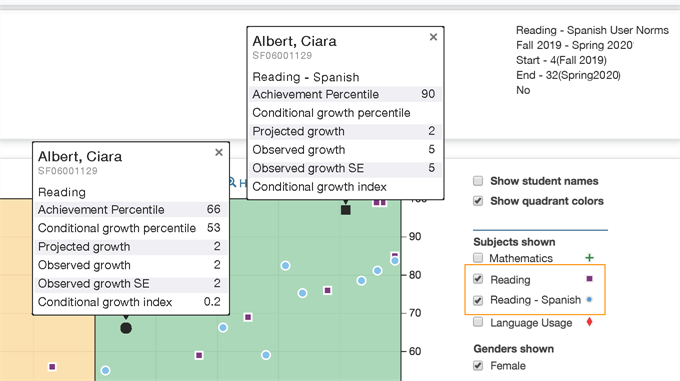 The following data will not appear on reports:
Projected proficiency on separate state and college readiness tests

Lexile® measure*
In addition, norms have some exceptions:
only available for individual students (school norms are not yet available).
currently based on Spanish reading tests from 2019 – 2020.
based on growth term pairs: fall to winter, fall to spring, and winter to spring.
available for grades K – 8.

labeled "User Norms" on reports.

For more about the research, see Spanish Reading Tests Norms Overview.
See also: MAP Tests in Spanish
* METAMETRICS® and LEXILE® are trademarks of MetaMetrics, Inc., and are registered in the United States and abroad.
back to top >>