Screener Outcomes Report
| | |
| --- | --- |
| Description | The Screener Outcomes report allows you to easily analyze data, including scaled domain scores, user norms, and screener outcomes. |
| Intended audience | Instructors, School Administrators |
| Required role | Instructor, School Administrator |
Reviewing Screener Outcome Report Results
The following annotated graphic and its corresponding numbered steps will guide you through the key features of the Screener Outcomes report.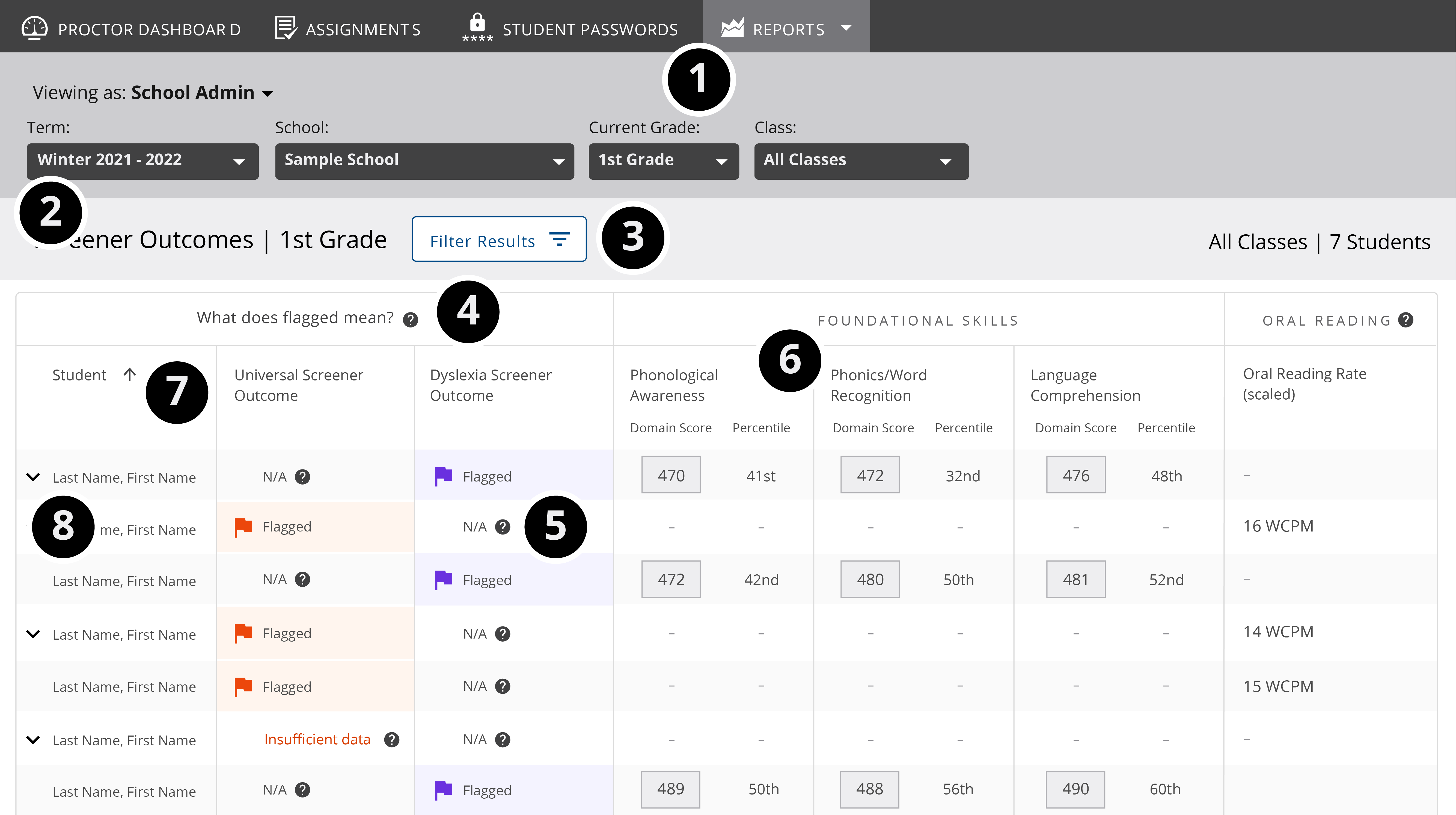 In MAP Reading Fluency, select Reports on the dark gray menu bar toward the top of the screen, then choose Screener Outcomes from the drop-down menu.

To access data from a specific Term, School, Grade, or Class, adjust the high-level filters as needed.

To adjust display options based on screener outcome or other test results, select the Filter Results button.

For general information about screener outcomes and the Oral Reading Rate, select the "?" icons in the header row.

For specific information about why individual students received results indicating insufficient data, select the "?" icon next to a report of "N/A."

To review scaled domain scores and status user norms in the domains of Phonological Awareness, Phonics/Word Recognition, and Language Comprehension, consider the data in the Foundational Skills section. For more details about this data, see below.

To sort the data, select a column header.

To access more detailed individual student results, select a student's name. This will open their Individual Student report.
Foundational Skills Data
The Screener Outcomes report includes scaled domain scores and achievement status norms (displayed as a percentile) for Foundational Skills.
Scaled Domain Scores
The foundational skills domains in MAP Reading Fluency include Phonological Awareness, Phonics & Word Recognition, and Language Comprehension. Each domain has a separate scale. Scaled domain scores are constructed so that scores within a given domain (e.g., Phonological Awareness) may be compared across test forms, school terms, school years or grades, and students onto a common unit of measurement. They are also well suited to aggregate reporting and use in statistical comparisons.
The foundational skills data and evidence allows educators, school/building leaders, and district-level administrators to quickly and reliably identify the students who would benefit from additional classroom resources and increased instructional intensity. Educators can use this data to help determine which students need additional resources and in which domains those resources should be allocated.
When this new foundational skills data is presented in reports, it provides actionable insights that help inform the decisions that drive intervention-related resource allocation.
User Norms
Achievement status norms are now available for each foundational skills domain scale for grades K–3. These user norms are based on a large, nationally representative sample from the 2018–2019 Foundational Skills MAP Reading Fluency administrations.
Status norms are presented as a percentile that communicates how students compare in relation to their peers in the same construct, grade, and term. Percentile ranks are typically expressed as a number between 1 and 99, with 50th being the midpoint. For example, if a student scored a percentile rank of 87th, it would mean that they performed better than 87% of the other students in their norm group.
Significant research efforts have been completed to allow NWEA to introduce these scaled domain scores along with related user norms for each. For more information about the NWEA statistical model-based approach for creating norms, visit our MAP Reading Fluency Norms Overview document.
back to top >>