Term Summary Report
| | |
| --- | --- |
| Description | The Term Summary report is an administrator-level report that provides Benchmark test and Dyslexia Screener data for an entire grade. |
| Intended audience | Administrators |
| Required role | School Administrator, District Administrator |
This annotated graphic will guide you through the main features of the report. Use the numbered steps and corresponding links to get started.
In MAP Reading Fluency, select REPORTS on the dark gray menu bar toward the top of the screen, then choose Term Summary Report from the drop-down menu.

To access data from a specific Term, School, Grade, or Language, adjust the high-level filters as needed.

Note: If students have taken multiple tests within a single term, only their best results will be included in the Term Summary report; if students have taken both Foundational Skills and oral reading measures within a single term, only their oral reading data will be included.

Review high-level results:

Benchmark Summary—Displays how many students took Foundational Skills versus Oral Reading measures within the Benchmark test.

Dyslexia Screener Summary (if applicable)—Displays how many students were flagged, not flagged, or had insufficient data from the Dyslexia Screener.

Review detailed Benchmark test results in the Foundational Skills Performance Breakdown and Oral Reading Performance Breakdown sections.
Foundational Skills Performance Breakdown
The Foundational Skills charts show the percentage of students in each zone of proximal development (ZPD) level, including Phonological Awareness, Phonics/Word Recognition, Listening Comprehension, and Picture Vocabulary. The colors correspond to the expected performance levels of students in that grade. For more information, refer to Interpretive Tables .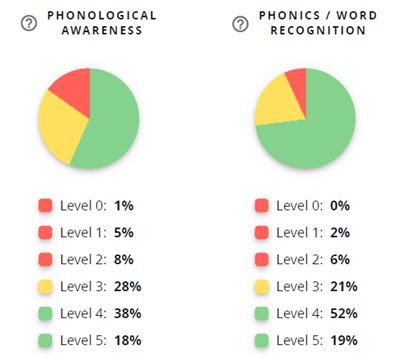 If all students in a grade performed at the same expectation level, the corresponding color is shown in different shades. In this example, all shades of red are below grade-level expectation. As indicated in the corresponding key, darker shades indicate students who are further behind.
Oral Reading Performance Breakdown
This section shows the distribution of Oral Reading Fluency results (Oral Reading Rate) for all students. It also shows the Oral Reading Level (Lexile® Oral Reading Measure) performance for students who took the English test (this measure is not included in the Spanish test).
The box-and-whisker plots depict the spread of student scores, divided into quartiles. In this example, the bottom 25% of students' Lexile oral reading measures were between 200 and 280, while the top 25% of students' measures were between 440 and 500.
For more background on the Lexile measurements, refer to Using Lexile Measurements.
LEXILE® and METAMETRICS® are trademarks of MetaMetrics, Inc., and are registered in the United States and abroad.
back to top >>