Class Breakdown by RIT,

Class Breakdown by Goal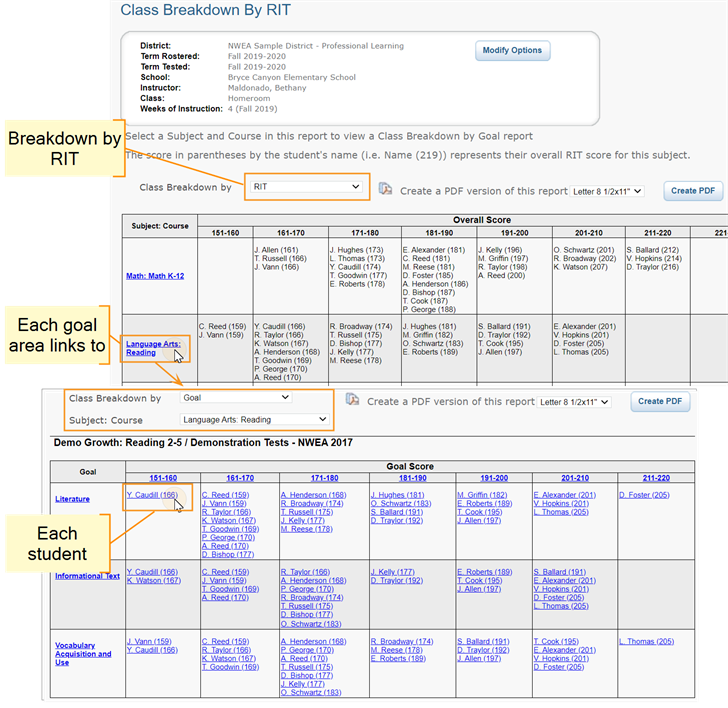 Description

Both reports show you at a glance the academic diversity of a class so you can modify and focus the instruction for each student.

By RIT—High-level view across basic subjects
By Goal—Detailed view for specific goals within each subject

Results are limited to 250 students per class. For unlimited students, use Grade Breakdown.

Applicable Tests
MAP Growth and MAP Growth K‑2.
Audience

Instructional coach, teacher, counselor

Required Roles

Instructor, Administrator, or Assessment Coordinator (School or District)

Date Limits

1 year prior, for tests completed within your test window range (set under Manage Terms)
Quick Lesson
Example Use for Class Breakdown by Goal
You can use the breakdown reports to quickly identify areas of relative strength or areas of concern.
For example, for the Language and Writing goal, J.E. Sirgo performed in a 10-point RIT band (111-120) that is below his overall RIT (127) for Reading, so that is an area of concern. By comparison, his performance for Foundational Skills is fine, because it's in a band encompassing his overall score (127).
Areas of strength or concern apply only for differences of 3 RIT points or more.
Key Options for Generating a Class Report
Term Rostered: Term when students were enrolled ("rostered") into MAP. Typically, you can leave it set to the current term (choices are limited to the current and previous academic years).
Term Tested: Term with the test events you want to see. For example, in the fall you might want to see results from the previous spring. Choices are limited to terms that are concurrent with or that precede the Term Rostered.
School, Instructor, Class, and Subject: The choices you have depend on your MAP role. The Assessment Coordinator can choose from across the district-wide. Other roles are limited to assigned schools and classes.
back to top >>