Learning Continuum
The Learning Continuum report identifies learning statements using two views: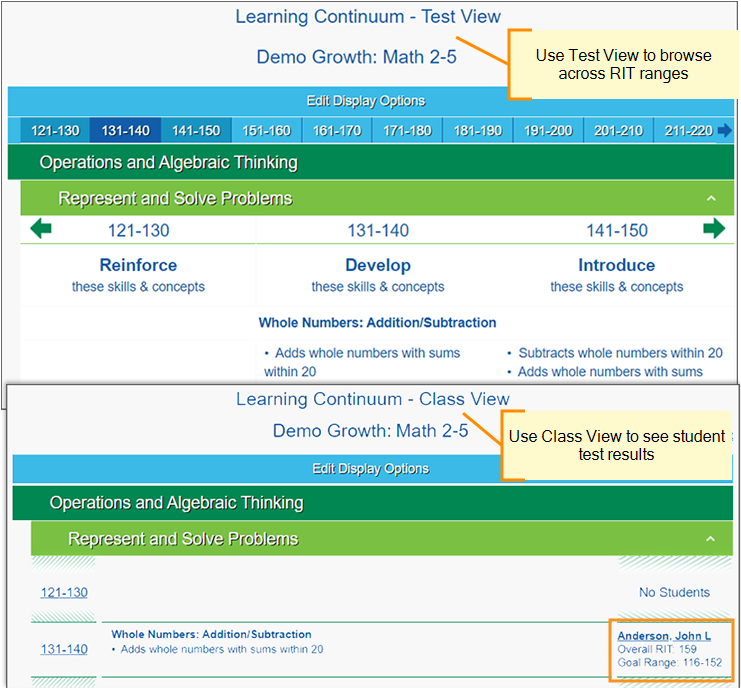 Description

Identifies learning statements corresponding to RIT scores so you can plan scaffolding and differentiated instruction.

Test View — organized by 10-point RIT bands

Class View — organized by student test results

Applicable Tests
MAP Growth and MAP Growth K–2.

Required Roles

Instructor, Administrator, or Assessment Coordinator (School or District)

Date Limits

1 year prior, for tests completed within your test window range (set under Manage Terms)
Quick Lesson
About Learning Statements
Learning statements found throughout the Learning Continuum are instruction-oriented statements that describe the concepts and skills assessed by MAP Growth.
Note: The appearance of a learning statement in a given 10-point RIT band does not necessarily mean that students who fall in that RIT band received questions about that skill or concept. However, statistically a student's RIT score within an instructional area does predict the applicability of learning statements in a given RIT band.
In the Test View, you can see learning statements organized in a continuum: 
Reinforce — For learning statements in the RIT band just below where a student scored, you could reinforce their learning, but they probably already know these skills and concepts.
Develop — The learning statements in the RIT band where a student scored are likely in their Zone of Proximal Development and may be helpful in planning current instruction.
Introduce — The learning statements in the RIT band just above where a student scored are skills and concepts you could potentially introduce when the student is ready for more challenge.
How to Access the Report
You can access the Learning Continuum from View Reports > MAP Reports > Learning Continuum, where you can open either the Class View or Test View (scroll down to reveal).
As a shortcut, open the Class View using links in the Class Breakdown by Goal report:
Note on Class View: The learning statements that appear with student names represent only some of the skills and concepts that support a standard. Because these skills and concepts are likely to be in the students' Zone of Proximal Development based on their MAP Growth scores, the learning statements can be a useful source of information to scaffold or enrich grade level instruction for identified students. However, those learning statements should not be the only source of information that a teacher consults.
Controlling the View
If available*, use Edit Display Options to control what appears in the report.

*The Display Options are not available for all test versions.

Group by Topic—The topic groups provided by NWEA help you locate related content.

Group by Standard—Most useful when combined with the Grade Level Standards filter, so you can isolate particular standards.

Filter by Grade Level Standards—Use with the Group by Standard option:

Why do grade 3 and 4 filters appear for grade K-2 tests?

Because of the adaptive nature of MAP assessments, the grade K-2 tests do contain questions that go beyond the targeted grade level. For this reason, the grade-level filters in the Display Options also go beyond the K-2 target. However, the tests themselves are still designed for students in grades K-2.

Use the browser search: Ctrl+F or Cmd+F.

Example: You want to find a topic on units of time.

Click a RIT band to view it in isolation, along with adjacent RIT bands. (Class View only.)

Example: You need to differentiate instruction for students performing in a given RIT band.

Note: To restore the full view, click View All.

Click a student name to isolate just that student. (Class View only.)

Example: You want to set learning goals for a certain student.

To restore the full view, click View All.
Print the Display
Note: Printed copy will become outdated as the test calibration changes, so always refer to the online view for the latest information.
Use the Firefox browser for the most accurate print rendering; however, any supported browser will work.

Display the learning statements you want.

Tip: For the Test View, you can print every third RIT band to avoid printing the RIT bands that overlap.

Scroll to the top and click Print (or type Ctrl+P on Windows, Cmd+P on Mac).
Optional—For a PDF, you could print to a PDF printer driver:

On Windows—You must first have a PDF printer driver installed. You can then select the PDF printer.

On Mac—When printing, click the PDF button and choose Save as PDF...
Frequent Questions for the Learning Continuum

What is the difference between the Learning Continuum and a learning progression?
Your curriculum or pacing guide used in the classroom should be based on a learning progression. A learning progression is a theoretical sequence of connected concepts—or pathways—informed by research and pedagogy. There are many pathways in any domain (such as math or reading), and those pathways can overlap, run parallel, or build off each other.
The Learning Continuum has elements of those pathways, but does not explicitly show the pathways expected by a learning progression. Instead, the Learning Continuum is a snapshot of the content and difficulty levels in the MAP Growth assessment. Use the Learning Continuum as a reference to infer what content students likely need reinforced, developed, or introduced.

What is meant when a learning statement refers to words within a "grade band"?
NWEA Content Specialists make a determination of the grade band in which vocabulary target words are acquired by using research-based word lists and resources common in the assessment industry, such as EDL Core Vocabularies.

How are learning statements assigned to each RIT band?
Every learning statement is associated with one or more MAP test questions. By calibrating test questions to the RIT scale, the corresponding learning statements can also be shown to fall within RIT bands.
Note: The appearance of a learning statement in a given 10-point RIT band does not necessarily mean that students who fall in that RIT band received questions about that skill or concept. However, statistically a student's RIT score within an instructional area does predict the applicability of learning statements in a given RIT band.

Why does the same learning statement appear across many RIT bands?
Statements covering a broad range of RIT bands indicate a skill or concept with progressive levels of complexity. An example for math would be equivalent fractions, starting with simple pairs and moving toward larger numbers and sets of fractions. An example for reading would be identifying the main idea, starting with simple text and becoming increasingly complex.
You can still differentiate instruction in these situations by varying the complexity and context of the skill.
Use Restrictions for Learning Continuum
The Learning Continuum is the exclusive property of NWEA and is protected by U.S. and international copyright. Use of the Learning Continuum by any person or entity other than a subscriber school district or other recognized and subscriber entity ("Subscriber") is prohibited. By using the Learning Continuum, you agree to the following terms and conditions of this Use Agreement (the "Use Agreement").

Show terms and conditions...
As a current subscriber of NWEA's products and services and as long as the Learning Continuum is contained within your organization or school district, you may reproduce the Learning Continuum, in its entirety or portions thereof, without gaining express written permission from NWEA if you agree to all of the following:
the use is for non-commercial purposes only
you do not modify any information or image
access is password protected and is accessible only to your authorized users
you include any copyright notice originally provided in the materials
You may load it into a database and on a password protected website without written permission provided that you include NWEA's copyright notice.
If only portions of the Learning Continuum are published or reproduced, be mindful not to combine them to avoid changing or modifying the learning statements. You further understand that the Learning Continuum should not be the basis of alignment for products and services not reviewed and approved by NWEA. If you do conduct unauthorized alignments, you agree to hold NWEA harmless and indemnify NWEA from claims, lawsuits that may arise from your alignment. NWEA only supports the Learning Continuum in its original format. Any changes to the Learning Continuum made by you will not be supported.
Any transfer to a 3rd party (commercial entities or persons not in your organization or district) to house, maintain, modify or adapt the Learning Continuum without a separate license will be prohibited. NWEA may immediately terminate all permissions hereunder in the event of any breach of this Use Agreement. Upon termination of this Use Agreement, you will immediately cease all use, reproduction, and distribution of the Learning Continuum and will immediately delete the Learning Continuum from all of your computers, databases, servers and websites.
back to top >>