Growth and Norms
Overview of MAP Growth Data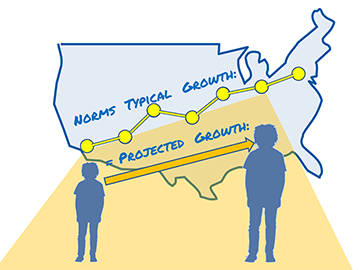 By using MAP tests, your schools can gain insight into the growth of all students, both low and high achievers. What makes it possible is the NWEA MAP norms study, which is representative of schools across the nation. NWEA norms enable you to compare student achievement in a single term (a "status norm"), as well as across terms (a "growth norm"):
Use growth norms to:
project the amount of growth that is typical for similar students
set appropriate growth targets, based on the projection
evaluate the observed growth in a subsequent term
Student-Level Growth
School and District Growth
2020 Norms Preview
Coming Soon: NWEA will introduce new norms beginning with the fall 2020 term. Until then, refer to this space for incremental previews of what's coming.
2020 Previews
2020 MAP Normative Data Overview

(Overview with status and growth charts)

 

2020 Norms Introduction and FAQ

(Key updates and frequent questions)

 
 
 

(Charts showing achievement ranges and college readiness benchmarks)

 

2020 MAP Growth K-2 Scale Maintenance

 
 
 

(Detailed achievement and growth norms for students and schools)

 

2020 Norms Study

(Coming Soon)
back to top >>